Day 9
We wake up early and our first stop is one of the many markets in Shanghai. One must know how to haggle prices down to the point of yelling in the merchants face or walking away in disgust to get a good deal here. I fit right in, and have never felt more at home yelling prices back and forth as I fill my bags with goods. Domino sets, Omega clocks, gifts for friends back home, scorpion key chains, shoes, and wall hangings. By the end of each exchange both the merchant and I are usually laughing at each other. By the time I've hustled each price down to "friend price" sometimes these people are so fed up that they take my next offer which is usually half of "friend price", or I walk away. Usually they will scream at you to come back and if they aren't laughing by now they are extremely pissed off and give you the goods saying things like "No money, no profit for me, very bad". I don't really believe that, and I don't really care and I move onto the next. The next market only lasts 20 minutes as it closes at 6pm and we're late. It's 4 huge buildings of knock off designer clothes, shoes, belts, bags, watches. Anything. We're psychically, sometimes violently shoved around the long halls and beckoned to follow each merchant to his shop where again you haggle down a price if you really are in the market for gucci sneakers or sunglasses. I think over anyone this stuff interests me the most. I spend the 20 minutes yelling out brands, and prices just to see what they have, and just to see how low I can get the prices. I'm taken to secret back rooms where I purchase full series bootlegs of Curb Your Enthusiam and The Wire.
Abe has promised Mike a vegetarian resturant tonight. We spend an hour walking around looking for it, but can't find it. Score another for the meat eaters. We eat cantonese food which is mostly stuff you eat at Dim Sum resturants back home but better. Mike leaves to "go eat an apple", and we eat a 90% vegetarian meal without him.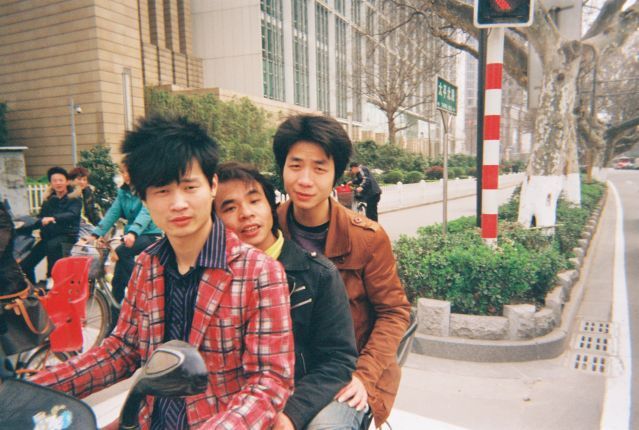 Day 10
We go to some tallest tower in the world, and I try to count how many times the word "tall" is said before we get there but lose interest. Tourist stuff. Stuff you can brag about later. Like bragging about the size of your penis or something. I don't go up and go accross the street to the hotel thats almost as tall and see the city for free from the 54th floor. Mostly smog. Pretty boring. Try to see the Shanghai Sex Museum, but its closed so Abe randomly eats a meal at Hooters because he wants "a chicken sandwich". Today must be Man Day or something. I just want to go back to the hustler mall and freak out. We finally please Mike and eat at a veg resturant in a mall thats pretty decent for a vegetarian fake meat place but pales in comparison to the other stuff we've crammed down our throats. He seems happy and definitely deserves it. He can't help being a picky vegetarian just like he can't help loving The Matrix (I've never seen it. Thats kind of steam, huh?). Sandy and I hit the "cheapo" market again. I spend 2 hours getting escorted around by a guy who says we are "best friends". He asks me what I want, and I tell him and he leads me to the stores he works for. Shady and pushy male guides are employed by a bunch of stores to hussle people through the crowds to shop at their booths. I buy 2 pairs of gucci loafers, a gucci sweater, sunglasses, another pair of gucci shoes, and I cop a good deal for me and sandy because we want new suitcases. I don't spend more than 100$ Canadian in total. Theres a break in the maddness when I am waiting for someone to bring me my size in sneaker. The salesmen give me chinese ciggerrettes and I smoke with them and chat. I've been fighting and yelling with these guys all day, sometimes to the point of real anger (acting skills are a plus), but in this 5 minute break we are "friends" and I'm complimented on my bargaining skills and they ask me if I have any "middle eastern blood". I watch an Indian man buy a bag for double what I pay for it, and I yell "300$??! NO!!" which sets the merchant into a rage. He runs at me, and I'm brought back to Grade 2 when I was psychically beaten for 10 minutes in a conveinience store by an older Chinese store owner for giving him the finger. I run for my life. My "best friends" laugh, and say how much I angered the man. Close one. I help Sandy buy a Louis V purse, and I get my brother a Gucci Wallet and it's over. My "best friend" gives me his card, and tells me to call him next time I'm around.
We try to eat our last dinner at a "blind resturant" tonight. A place where you order when you walk in and the rest of the experience is spent completely in the dark. All the waiters are blind. Apparently its fun. Sounds strange. We're into trying it, but it ends up being closed so we're taken to eat Dong Bey food (North eastern Chinese). We eat foot long bones of lamb leg like we're in The Flintstones, more dumplings and pig out (AGAIN). I try to steal the tea pot, but get caught.
We meet for drinks for one last time with our shanghai bro's and say our goodbyes. Nickie, Reggie & Dan. Thank you so much.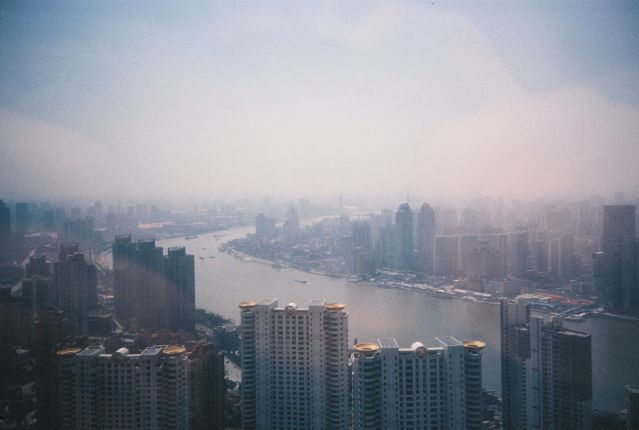 Day 11
Our last day. We fly at 5pm. Mike and Josh pick up their customized suits, and feel pretty confident they will be suited and booted for life. Good idea.
Abe has another Job interview today and I cab ride with him to pick up my film on the way to his interview. I've been touring since I was 18 years old. I'm almost 27 and I've had quite a few "tour managers" since I started. Some smoked crack, some gave the band I was in Meth, some supported by old band mates down the road of maintaining nice little coke habits, some were crazy in different ways. Abe's been the best of them. How do you say goodbye to someone who's just held your hand accross China and pretty much wiped you and your band mates asses for 10 days? I awkwardly mumble some thank you's and truely hope to see Abe again. He is responsible for the single best and most forFILLING travel experience of my life and Abe, we can't thank you enough.
Our cab ride out of the city takes us over the same suspension bridge our ferry passed under before our queezy arrival into Shanghai 10 days ago. One of my last memories of China mirrors my first, and I swallow a few last gulps of smog while out of habit anxiously check my pocket for my inhaler ("
sucks to your assmar
!!"). I buy a 5$ Omega knock off before getting on the 400km/h hovering train to the airport.
As we take off in another plane home I'm surrounded by Chinese babies one last time gurgling in baby language and laughing at me. It's the first time I don't really want to leave a place that isn't my home and besides the french canadians snoring in french accents before take off, its a near perfect ending to an amazing trip.
I'll add one last thing here. I avoided Kareoke all Japan and all China. No Warning has songs in Kareoke bars in Japan apparently, and I still avoided those places. But wait, WTF! 3 hours after our 16 hour flight home I find myself at a birthday party in Toronto at, ironically enough, a Kareoke Bar on Bloor Street. Dead tired from the long travel day I channel the pent up kareoke energy and manage just one song. As I rip into "Thong Song", completely putting my friendly party companions to shame (apparently), I think of China (Yea, you guessed it!) and all our new friends on the other side of the world.
Shee-Shaeeee, China!
"Thaths Whaths Up".